Enumclaw, Washington - 98022
History

The city of Enumclaw is rich in Native American mythology and influence. The word Enumclaw is a Salish Native American word meaning "place o
f evil spirits". The mythology often refers to two native American brothers named "Enumclaw" and "Kapoonis", the thunder-twins…whose father turned them into "thunder" and "lightning". Farming was the major industry beginning with hops and eventually ending with dairy. Enumclaw was incorporated in 1913 and is considered one of the safest cities in Washington State to live. It is also 1 of 3 cities in Washington State to ban pitbulls in the city limits.
Common Wildlife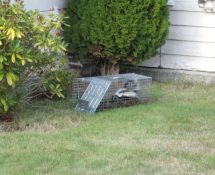 Due to its grassy, fertile fields, the most common nuisance critters to inhabit Enumclaw are skunks. In the spring time, skunks may even be seen waddling along with their young following in a single file. They like to nest under sheds, barns and dirt foundations leaving behind their pungent aroma. Skunks have a herbivorous diet and consume lots of different things like berries, inescts/larvae, eggs, small rodents, frogs, fish, pet food, and some vegetation. They are not communal nesters but can gather in groups in the winter to keep warm.
Wildlife Damage
Usually you will smell them before you see them, a skunk's odor is rather pungent and penetrating. They prefer to have their den sites free of odor and will often vacate it even if their own scent is present. The mixture below may be used to help remove the smell of skunk when sprayed on wood, plastic, siding, cement, lawns etc. It is best to test in a visually discreet area prior to spraying the whole surface.
1 quart 3% hydrogen peroxide
¼ cup baking soda
1 tsp. liquid soap
*DO NOT MIX OR CONTAIN IN GLASS JARS*
The fact of the matter is, everyone deals with wildlife. You are not alone. 206.431.6833