HOME SERVICES
Animal Damage Repair and Your Homeowners Insurance
Animal Damage Repair
At Critter Control of Seattle, we offer full services for all of your wildlife needs. Not only do we offer services to remove the problematic wildlife, but we also offer repair and exclusion services as well.
Very few homeowners are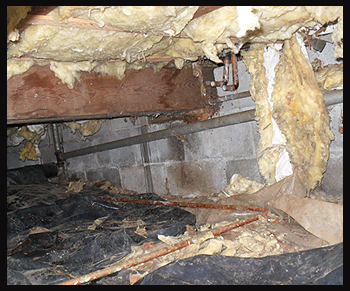 aware that their homeowner's insurance policy may cover the costs of repairing damage caused by wild animals, but we feel obligated to inform our customers that there is a pretty good chance that damage to your home will be covered if it is caused by a wild animal.
If you are having a problem with rodents, you will have to check your insurance policy, because many policies do exclude rodent damage. If you have damage caused by squirrels, some insurance companies may tell you that this is rodent damage; however, most states identify squirrels as game animals which means your policy could be successfully argued.
In addition to repairing the structural damage caused by wild animals, your homeowner's insurance may also provide for the removal and replacement of soiled or contaminated insulation, as well as water damage to your insured personal property, that results from leaks caused by wildlife.
When there is wildlife living in your home, a skunk taking residence around your home, an animal dies in your home, or any other wildlife problem that has caused lingering unpleasant or offensive odors in your home, your homeowners insurance may also cover the deodorizing of your home and dry cleaning of your clothes.
We encourage you to check with your insurance company regarding your coverage no matter which species of wild animal has caused your property damage.
According to the National Association of Insurance Commissioners, 84.2% of all U.S. homeowners have HO-3 type policy. This is the type of policy that will most likely pay for the repair of any damages caused by wildlife animals other than rodents.
Please feel free to have your insurance agent contact us. We will be glad to work with him or her for your benefit. 206.431.6833
Odor Control/Remediation
Have you ever noticed a weird smell in your home that is definitely not the trash or your teenager's bedroom? That smell could be caused by a wild animal directly (dead or alive) or indirectly (urine, feces, nesting material, etc.). Animals can leave odors long after they are gone. Animal waste can seep into the surrounding structure and stay for long periods of time. Insulation and drywall are the most commonly affected materials and they even have to be replaced in some cases. After removing the animal(s) and their mess, we have special deodorizers, disinfectants, neutralizers and air purifiers to make that nasty smell go away. Call 206.431.6833 today for more information on solving all your wildlife problems.
Carcass/Dead Animal Removal
Dead animals leave a horrendous smell in your home, property, or business. The carcass of the dead animal can lead to health hazards, insect infestation, stains and lingering odors. In addition, the secretions from the dead animal as it decomposes, can cause damage to the surrounding material in the structure if inside. This can cause rot and degradation to drywall, support beams, and insulation. The animals size also affects how long it takes to decompose. After removing the animal(s), we have special deodorizers, disinfectants, neutralizers and air purifiers to make that horrible smell go away. Call 206.431.6833 today for more information on solving all your animal problems.
Cleaning Services
When a critter unexpectedly moves in, they can make a mess of your home. What can you do about the mess after they've gone? Have they left you with dirty little footprints on your deck or siding? Well, here at Critter Control of Seattle we offer cleaning services specialized for these situations and many more.
Aluminum siding cleaning
Wood siding cleaning
Brick, paver and concrete cleaning
Patio cleaning
Deck cleaning
Gutter cleaning and leaf guards
Roof cleaning
Animal droppings/feces removal
Anything from muddy damaged gutters, to just a couple of footprints on your patio, not only can we help rid you of your pest(s) but we can also clean up the mess afterward. Please give us a call for more information about our cleaning services. 206.431.6833
Animal Latrine Removal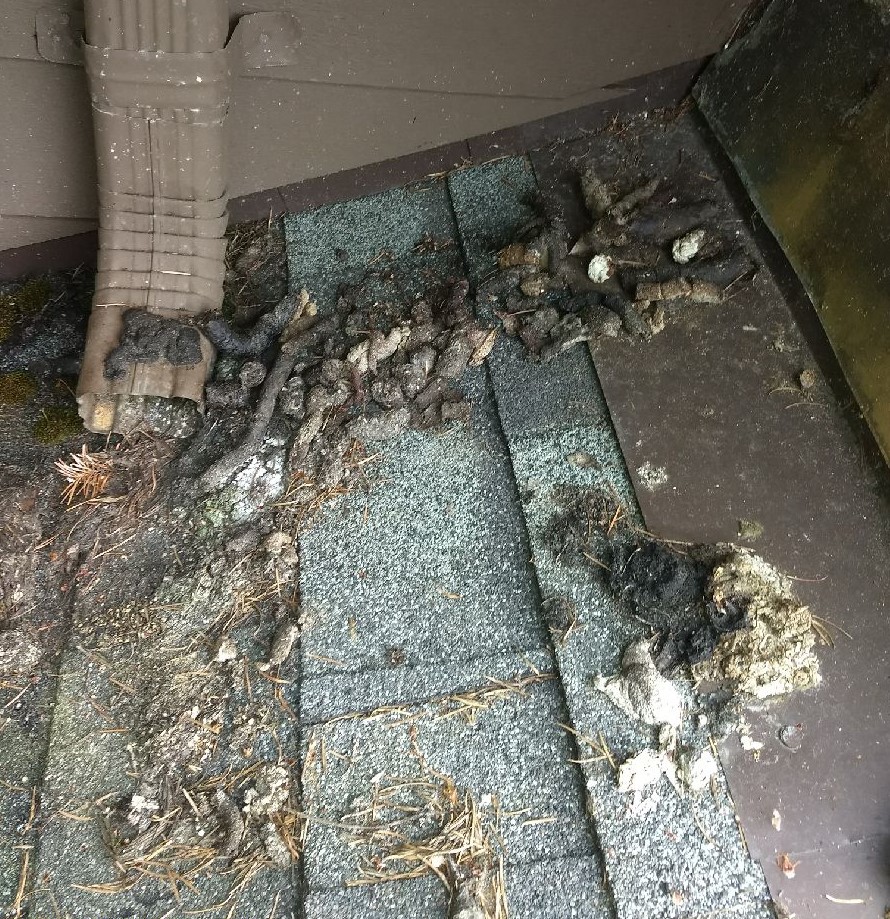 Animals such as raccoons and opossums will continuously come back and defecate and urinate in the same area or areas. Over time this waste builds up and can be a host to many dangerous toxins and diseases. In addition to the disease transmission, droppings and urine can harbor moisture which can cause structural damage as well as give mold a place to grow. Latrines can be established anywhere the animals are whether it is in the crawlspace, attic, or outside by a tree. Cleaning the droppings can be a dangerous and meticulous task; Let us clean these contaminants for you. Call 206.431.6833 today for more information on our wildlife waste removal services.
Tree Wrapping
Animals like squirrels, raccoons, opossums and rodents commonly use trees and large bushes to traverse between yards, go over fences, and get onto buildings. Other animals, like beavers and mountain beavers, either eat the trees or bushes or "girdle" them; menaing they strip all the bark away from around the base of the tree. This can cause a lot of damage to the vegetation itself and the surrounding buildings and waterways. Critter Control of Seattle can wrap the bases of large trees/bushes to prevent girddling, chewing, and climbing. Call 206.431.6833 today for more information.